Convenient online booking!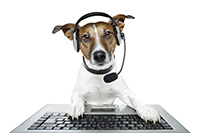 We will review and either approve or reject request as quickly as possible, based on availability.  Please feel free to call us at 610-404-1842 to resolve any rejected requests.
For first-time new customer boarding and grooming requests, a 25% non-refundable deposit is required before approval of your reservation/appointment request which  will be applied to invoice at checkout.
For all new boarding and daycare customers, please forward Rabies, Bordetella and Distemper/Parvo Vaccine information from your veterinarian to us at Info@buddyspetresort.com to hold your reservation.  We will also need to temperament test your dog prior to first boarding or daycare stay, so please call us at 610-404-1842 to set up a convenient time.